We are a purely dedicated, fitness and competitive western boxing gym located in Bangkok, Thailand since 2014. We offer a unique boxing system that has been proven to help our students at all boxing levels to understand the physical and intellectual sides of the sweet science. We are dedicated to sharing knowledge and giving our best in our teachings. Our primary goals are not just helping our students get to the destination but to make sure they continue to progress in each and every session they train and enjoy the journey towards greatness. We believe that there is no limit in boxing as well as shortcuts to success. We value hard work, efforts, discipline, respect and dedication which are the components that make up a true fighter.
Invest in your boxing knowledge and reach your goals faster with the specific programming personalized just for you
Find boxing classes you really enjoy and keep coming back for more!


A Journey to be well-prepared mentally, emotionally, and physically for your upcoming fight.
Turn your passion into profit. Learn how to start a career as a a boxing trainer.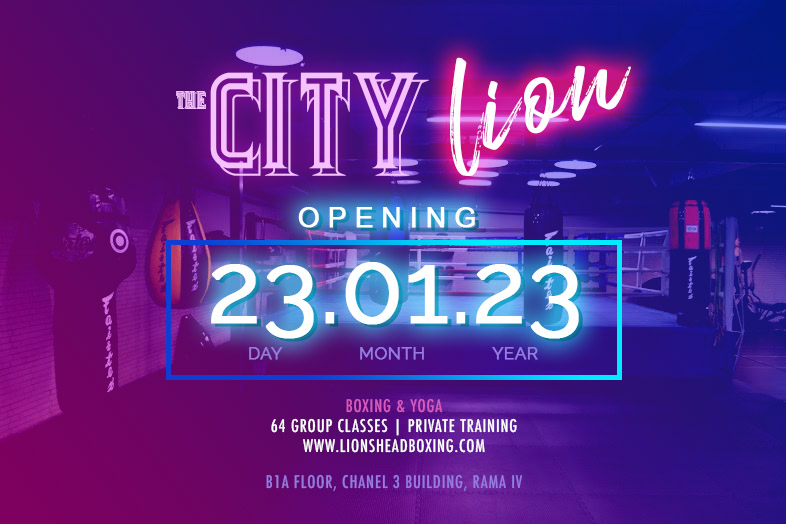 COMING IN JANUARY 2023
THE CITY LION BRANCH
We are happy to announce that we will be opening our 2nd branch "The City Lion" this coming January 23rd, 2023.
Our new facility is located downtown in Rama IV area, which is accessible by BTS Sky Train such as Thong Lo, Phrom Phong, Ekkamai, and Phrakanong and only with an additional 5-minute motorcycle ride. We also offer free parking spaces for private vehicles. This 2023 at The City Lion we will be introducing you to 64 new group classes monthly along with private training sessions from highly qualified boxing and fitness, and yoga coaches with years of experiences in their fields. Our facility is divided into 4 sections for bagwork, ringwork, strength and conditioning area, and free floor area for your boxing, fitness, and yoga needs! In additions, we offer huge lockers and showers, ice bath, and fitness apparel for rent to provide you with convenience and the best training experience at Lion's Head Boxing Academy.
We look forward to welcoming you all to our new facility on January 23rd!
Join our group classes for free on the opening day and get discount coupons at The City Lion!
"I have been with LHB even before there was a gym. Coach Jay-R has been instrumental in honing my skills of the sweet science, from the fundamental basics to sparring techniques. While there are many boxing styles, coach Jay-R is unique in his abilities not only in analyzing and articulating but finding ways to correct my mistakes, as he and his wife are also both passionate about boxing and operating a gym, LHB turned out to be one of the best western boxing focused facilities in Thailand, not to mention the shared love of boxing between staff and members. "
"What I like most about Lion's Head Boxing is that they teach good basics. It doesn't matter what sport you play, if you have solid fundamentals, you will have a good future in it and Lion's Head is the answer to everything"
""Many gyms try to get you to explore their stance and style while coach Jay-R doesn't just do that. He gets you to experiment with different styles to see how comfortable you are with it and do minor adjustments here and there. The staff are very friendly and very professional. Easy to talk to and easy going"."